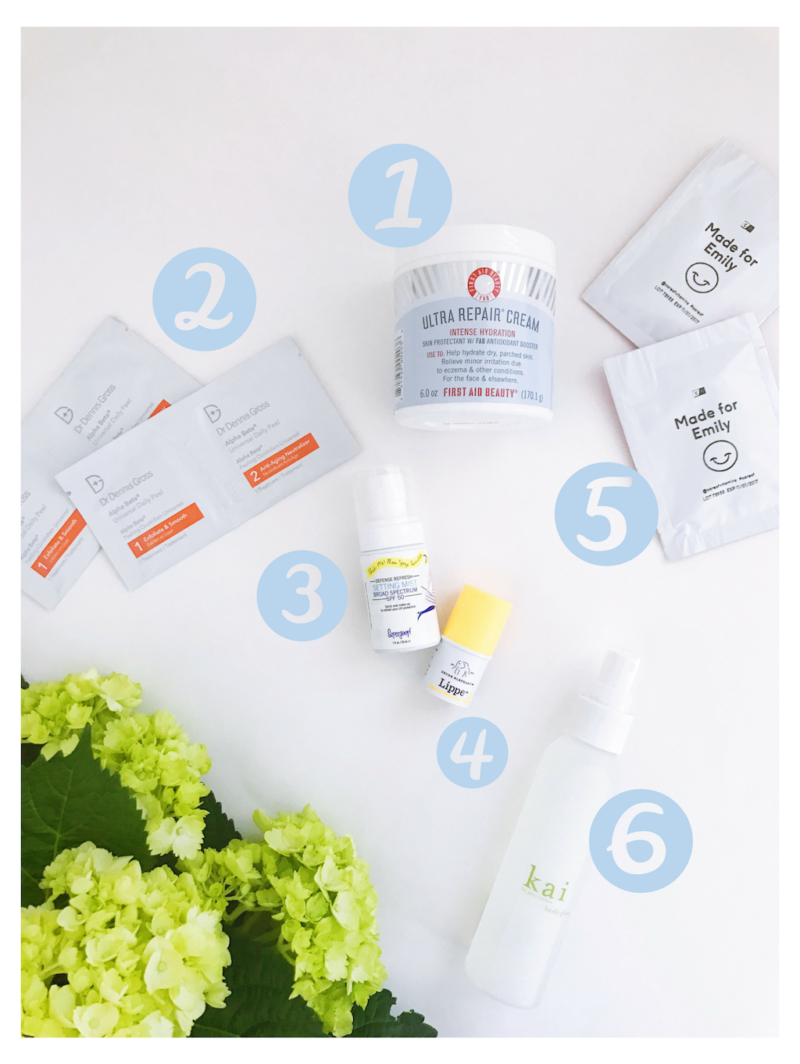 Over the last couple of weeks I feel like I've been hitting the beauty product jackpot. Between recommendations from friends and numerous hours just browsing through Sephora, I feel like I have tracked down some really great summer beauty essentials. From moisturizers to products that help to correct the effects of spending too much time in the sun, all of these products have me, and my skin, excited for warmer weather!
1. First Aid Beauty's Ultra Repair Cream 
A friend recommended this product to me a couple of months ago and I haven't looked back. This moisturizer is non-greasy, super absorbent and seems to heal almost all of my moisture-related skin issues. I have a feeling this will be a lifesaver when it comes to skin that has seen too much of the summer sun.
2. Dr. Dennis Gross Skincare Alpha Beta Universal Daily Peel 
Not only does this peel help fight aging and enlarged pores, it helps to combat some of my least favorite summer skin issues – uneven tone and texture. I have been using this peel once a week whenever I feel like my skin needs a refresh, but it is definitely gentle enough to use every day.
3. Supergoop! Defense Refresh Setting Mist Broad Spectrum SPF 50
I have to admit I have not always been the most diligent when it comes to protecting my face from the sun, but this summer I am trying to change that. This setting spray helps to control oil and shine while protecting your face from harmful UV rays. I purchased the travel size to keep in my purse so that I always have a little SPF with me, and since it's always in my bag, it makes remembering to reapply much easier.
I collect lip balm like it's my job, but this is one I can't live without.  Not only does this product help to protect lips against free radical damage, it has anti-aging properties as a result of the peptides and sea fern algae its formulated with. For summer specifically I love this product because the Vitamin C and green tea leaf ingredients help to correct the effects of UV exposure.
Beauty on the outside starts on the inside, which is why this summer I am trying to be more diligent about all things health and wellness. Care/of was a great place to start because their process begins with a survey that helps them determine what type of vitamins and supplements your body needs based on a variety of factors. Once your needs are determined, you will receive a months supply of personalized vitamins, pre-packaged for each day. My order contains Astaxanthin, a powerful antioxidant which is great for skin health.
Kai Body Glow was made for summer. From the light floral scent to the moisturizing spray made up of jojaba oil, chamomile, aloe and cucumber extract, this product smells delicious AND helps to keep skin feeling smooth.
What are some of your favorite beauty products for summer?
Shop my favorite summer beauty products: