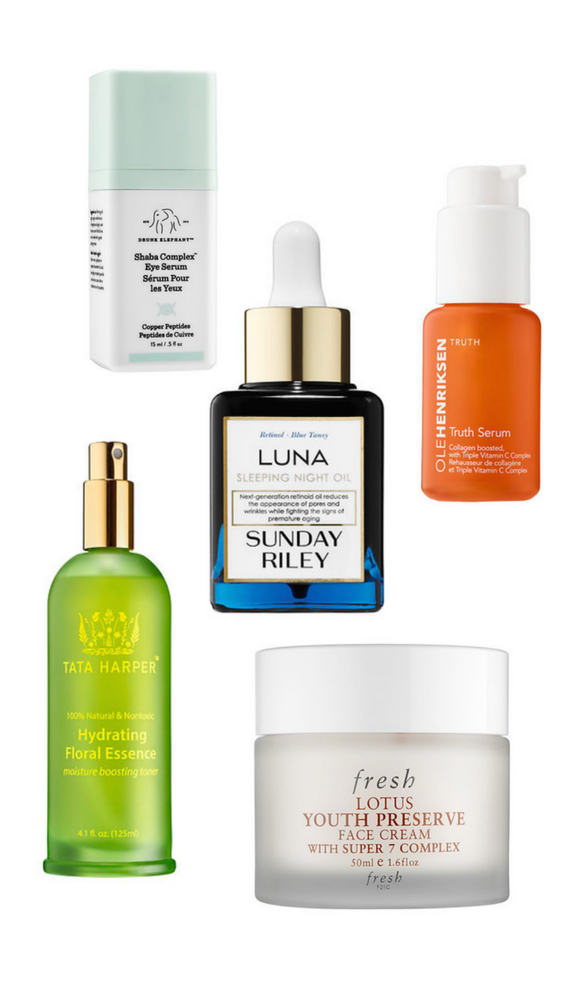 I was inspired to write this best beauty gifts post after spending about an hour on Sephora trying to decide what to purchase with my Beauty Insider Event Holiday Bonus 20% off coupon. For those of you not familiar with Sephora's Beauty Insider program it's essentially a program where you receive rewards for shopping with Sephora. Right now they are having an event where you receive a coupon based on your status level within the program. The event ends 11/15 (tomorrow!), so be sure to check it out if you are a member.
That being said, as I was searching for something to buy, I was reminded of so many great products that I love, want, and think would make for a great gift. From skincare to face masks, mascaras and gift sets, you'll find the best beauty gifts for all the product-loving people on your list.
Skincare 
Skincare can mean a lot of different things, but for the purposes of this beauty gift guide/section, I will be sticking to moisturizers, anti-aging products, serums and oils. I've included some of my favorites like First Aid Beauty's Ultra Repair Cream previously seen here on the blog, along with some more expensive products that people aren't always willing to buy for themselves like Sunday Riley's Luna Sleeping Night Oil that I've been dying to try!
Face Masks
This is probably my favorite section of this gift guide — I love face masks! I feel like there is a face mask for every skin issue imaginable. Of course I have my go-to's like the GLAMGLOW SUPERMUD Clearing Treatment when I breakout and the Fresh Rose Face Mask when my skin is super dry from travel (both previously seen here on the blog), but I'm definitely always on the look out for a new, great mask. In addition to the skin benefits face masks provide, I love taking the 10-20 minutes most of them require to relax and unwind. With that thought in mind, the face mask gift is actually a two-for-one — great skin and an excuse for a little self love. Win-win.
Mascara
This section might seem a bit random, but for as long as I can remember I have always received a new mascara on Christmas. My mom always puts one in my stocking, so I figured I would share some that I love. I can honestly say this is one of my favorite stocking stuffers every year!
Gift Sets
Gift sets are always fun to receive. One thing I really love about gift sets is that you get the ability to test out a bunch of different products and see what you like before committing to a full-size purchase. Believe it or not, some of the best beauty gifts I've received have been value sets of products. From skincare, to fragrance and lip color, there are options available for every type of product and price range.
 What beauty products are you asking for this holiday season?!