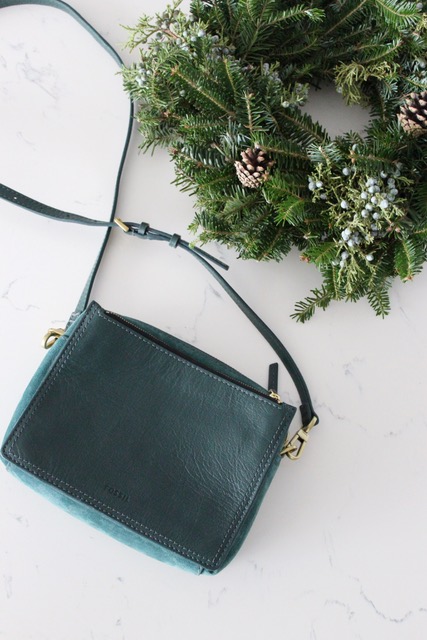 Happy December 1st! I don't know about you guys but I am SO excited for the holidays this year. As soon as Thanksgiving was over I wanted to start decorating our apartment, but that hasn't happened yet. I am traveling for work this week (currently in Las Vegas), so Bill suggested we wait to decorate the place until I get home from my trip. I agreed, but couldn't help myself from buying this adorable wreath from Trader Joe's for our door right before I left. I am a huge fan of anything evergreen around the winter/Christmas season, especially the color, hence this post on holiday greens! From emerald to forest green and more, I'm excited to integrate these festive hues into my holiday and winter wardrobe.
To kick things off, I recently received this beautiful alpine green crossbody from Fossil and it has been in heavy rotation ever since. Unfortunately, I believe the green in this style has sold out (brown/black and multi still available), but there is a very similar style bag in the same alpine green shade available here! I've received so many compliments on this bag, and bonus, it's currently 25% off through December 10. I love the leather and suede combo and it's the perfect size for a holiday party!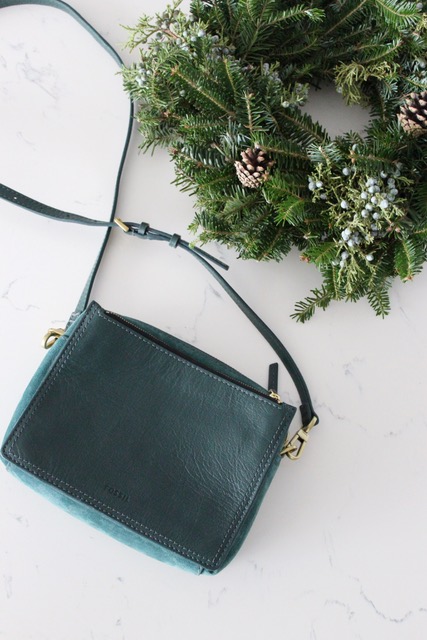 One of my other favorite ways to integrate holiday greens into my wardrobe is with a good coat, and there are so many amazing ones out there this year! I seriously have about five on my wishlist and need to chill out. Below I've rounded up some of my favorites.
Green also works great for holiday parties. I feel like most people usually go for red, but whether it's a festive top or a pretty dress, there are so many great options in a variety of different shades. Personally, I feel like an emerald green top or dress with black tights would be perfect for any occasion this season.
Last but not least — earrings. Similar to a pretty green bag, earrings are a great way to add a pop of color to any outfit. I've been loving big, bold earrings this year, and I'm definitely going to be wearing them throughout the rest of the holidays.
Are you a green lover like me?! If not, what colors do you love to wear throughout the holiday season?