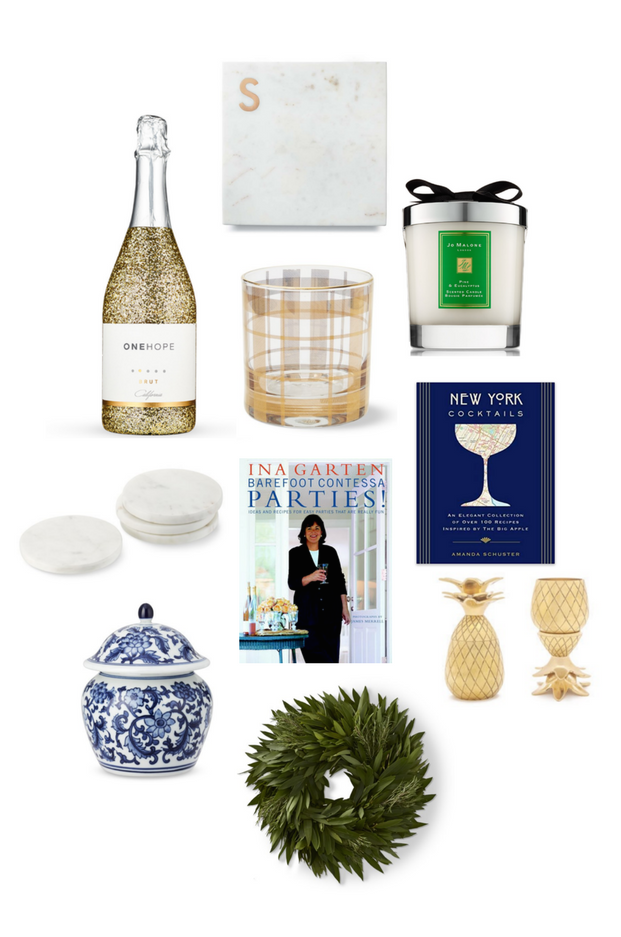 Yesterday while I was picking up a few things  for a holiday party that I have tonight, I realized I hadn't shared a holiday hostess gifts post on the blog. I feel like I always end up going with wine or flowers (mostly because I wait until the last minute… my b), but this year I'm feeling inspired to change my ways by gifting some of the fun and festive options below.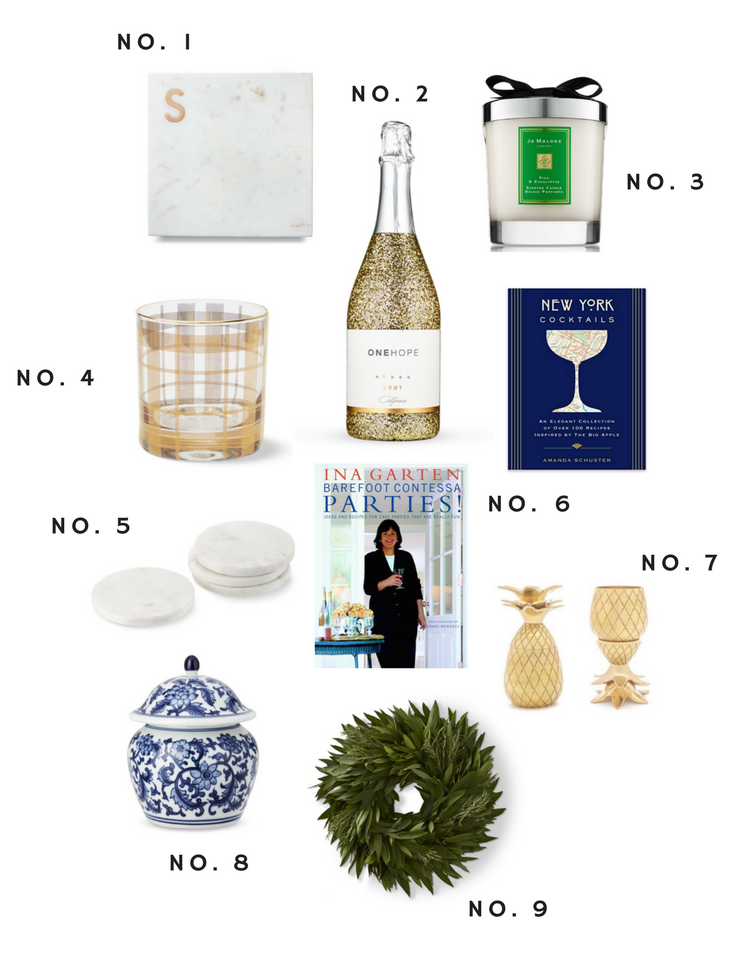 No. 1 — A Monogrammed Cheeseboard
A monogram adds something personal to any gift, and I am loving this marble & copper monogrammed board from Williams Sonoma. I am calling this a cheeseboard, but I think it's technically marketed as a board, meaning it can really be used for anything in the kitchen.
No. 2 — ONEHOPE California Brut Sparkling Wine Gold Glitter Edition
ONEHOPE's Brut Sparkling Wine glitter edition is festive, beautiful (would look great one anyone's bar cart) and it's a gift that gives back. This particular product comes in silver or gold glitter, and each bottle provides 15 meals to a child in need. If you're host isn't a fan of champagne, ONEHOPE also offers a variety of other wines that support various causes from the environment to animals and more.
No. 3 — A Festive Candle
There's nothing like a festive candle around the holidays. I always lean towards that smell of pine or fir, and Jo Malone's Pine & Eucalyptus candle fits the bill. 
No. 4 — A Glassware Set
When I came across these tartan old-fashioned glasses from Williams Sonoma, I immediately thought they would make for a perfect hostess gift. Bonus, they are on sale!
You can never go wrong with marble coasters, and the ones above are as classic as they come.
No. 6 — A Fun Cookbook or Cocktail Book
My boyfriend's sister received this Barefoot Contessa book as a gift at her bridal shower, and I've thought it was a great gift idea ever since. Additionally, I think a cocktail book could be a fun alternative and I'm loving Amanda Schuster's New York Cocktails.
No. 7 — Gold Pineapple Shot Glasses
I came across these gold pineapple shot glasses on the Kirby and Company website, and I'm obsessed. They are so fun and would look adorable on a bar cart. Tip for my Fairfield County readers, the Kirby and Company store is located on the Post Road in Darien and it's to die for!
No. 8 — A Ginger Jar
Ginger Jars are a staple, but this year I feel like I've seen them around more than ever. They look great on a coffee table or in the kitchen, and I love Williams Sonoma's Petite Ginger Jar in Floral Vines.
No. 9 — A Pretty Wreath
Swap out traditional flowers for a festive wreath. This bay leaf and rosemary wreath will not only look great, but it will smell amazing.
What will you be gifting your hostesses this holiday season?