I'm a huge fan of drugstores. CVS, Walgreens, Duane Reade, I love them all and am known for going in to buy toothpaste and leaving with $50 worth of products. My love for drugstores is amplified during the holiday season because they are usually open when most stores aren't (helloooo my fellow last minute shoppers) and they are great for snagging cards, club soda for cocktails (v important), gifts, etc.
When it comes to stocking stuffers, there is no place better to find some great small gifts than a drugstore. I've mentioned my mom's stockings on the blog before (because they are amazing), and she definitely throws some drugstore finds in my stocking each year. Whether it's a new deodorant or a face mask, it's nice to receive a mix of products you use every day along with some products you can use to pamper yourself. Below I've rounded up a few of my favorite drugstore stocking stuffers ideas that I think would please anyone on your list this holiday season…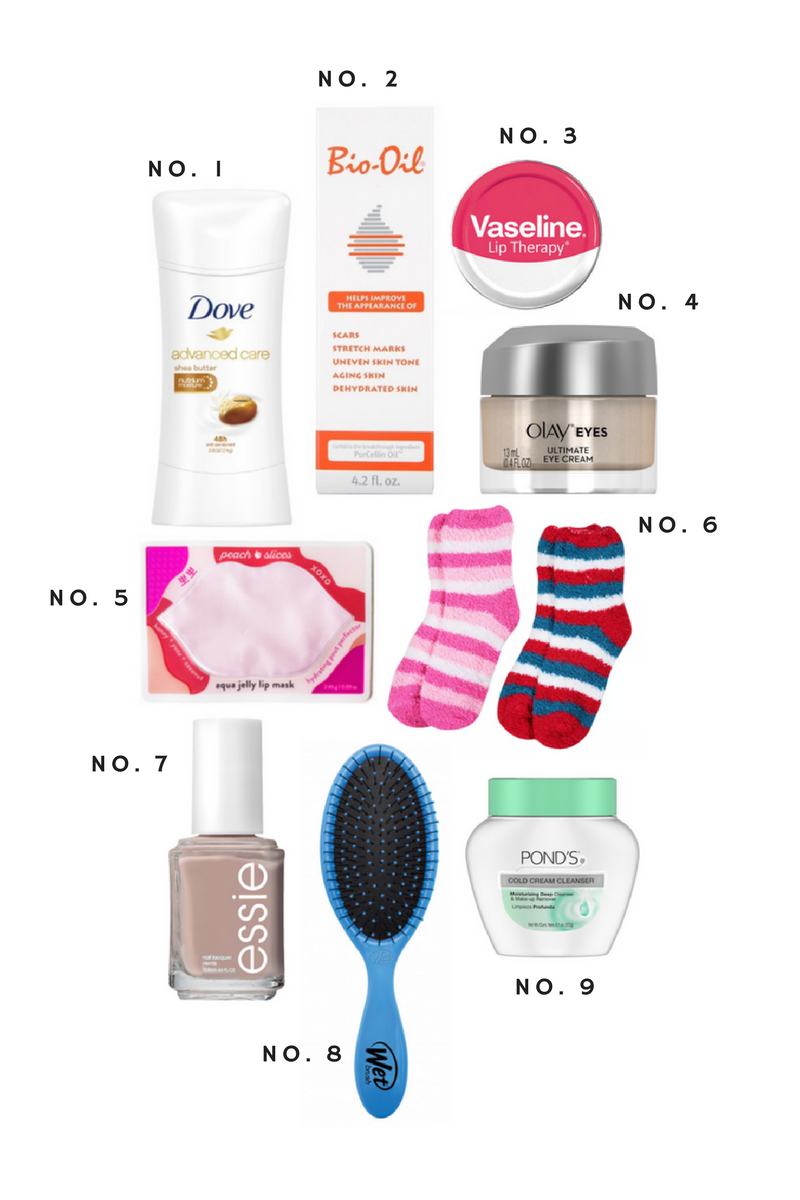 No. 1 — Dove Advanced Care Shea Butter Antiperspirant
I'm a huge Dove fan, I use their deodorant and body wash almost always. Every year my mom throws a new deodorant in my stocking and I always appreciate it because it's one of those things I tend to forget when traveling home for the holidays. Recently Dove sent me their Advanced Care Shea Butter Antiperspirant and I'm obsessed. The shea butter is perfect for the winter months because it helps keep my skin soft and smooth.
I really like this product during the winter months. It can be used for a variety of things from stretch marks to scars, but I use it as a body oil to combat dry winter skin. It's made up of Vitamin A and E, lavender, chamomile, rosemary and calendula oils.
No. 3 — Vaseline Lip Balm Tin Rosy Lips
I've talked about this product before on the blog here, and I truly do love it. I have them all over my apartment because I can't stop buying them. This is a great lip tint that actually helps to heal your lips. Plus, it's actually one of the best rose-tinted lip balms I've come across and trust me I've tried a ton.
No. 4 — Olay Eyes Ultimate Eye Cream for Wrinkles, Puffy Eyes, & Dark Circles
Three birds, one stone. This eye cream from Olay fights wrinkles, puffy eyes and dark circles in one shot. Can't beat it!
No. 5 — Peach Slices Aqua Jelly Lip Mask
CVS has really stepped up their K-Beauty products lately and they carry a variety of products made by Peach Slices. I've tried a few of the face masks and liked them, but I think this lip mask would be a really fun stocking stuffer.
No. 6 — Carnival Ladies' Cozy Socks
This might sound really weird, but I love these socks. I'm not kidding they are under $2 and I have so many pairs in my sock drawer. They are so soft and cozy and I love wearing them around the apartment during the winter. These are definitely high up on my recommended drugstore stocking stuffers list.
I almost exclusively wear nude nail polish by Essie. For some reason their nude shades look better with my skin tone than the others I've tried. My go-to color is Topless & Barefoot, but recently I've been loving the shades in the Wild Nudes 2017 collection available at Walgreens, CVS, etc.
No. 8 — Wet Brush Wet Detangling Brush
I love this brush post-shower. It helps to to eliminate pulling and ripping of hair (bye hair loss and split ends) and is great for sensitive scalps. I've found them at CVS and Walgreens recently.
No. 9 — Pond's Cold Cream Cleanser
I swear by Pond's to remove my makeup, and have since I was about 16. This is one product that I don't stray from and when it runs out I immediately buy another one.
What are your favorite drugstore stocking stuffers? Are any of them on this list?!