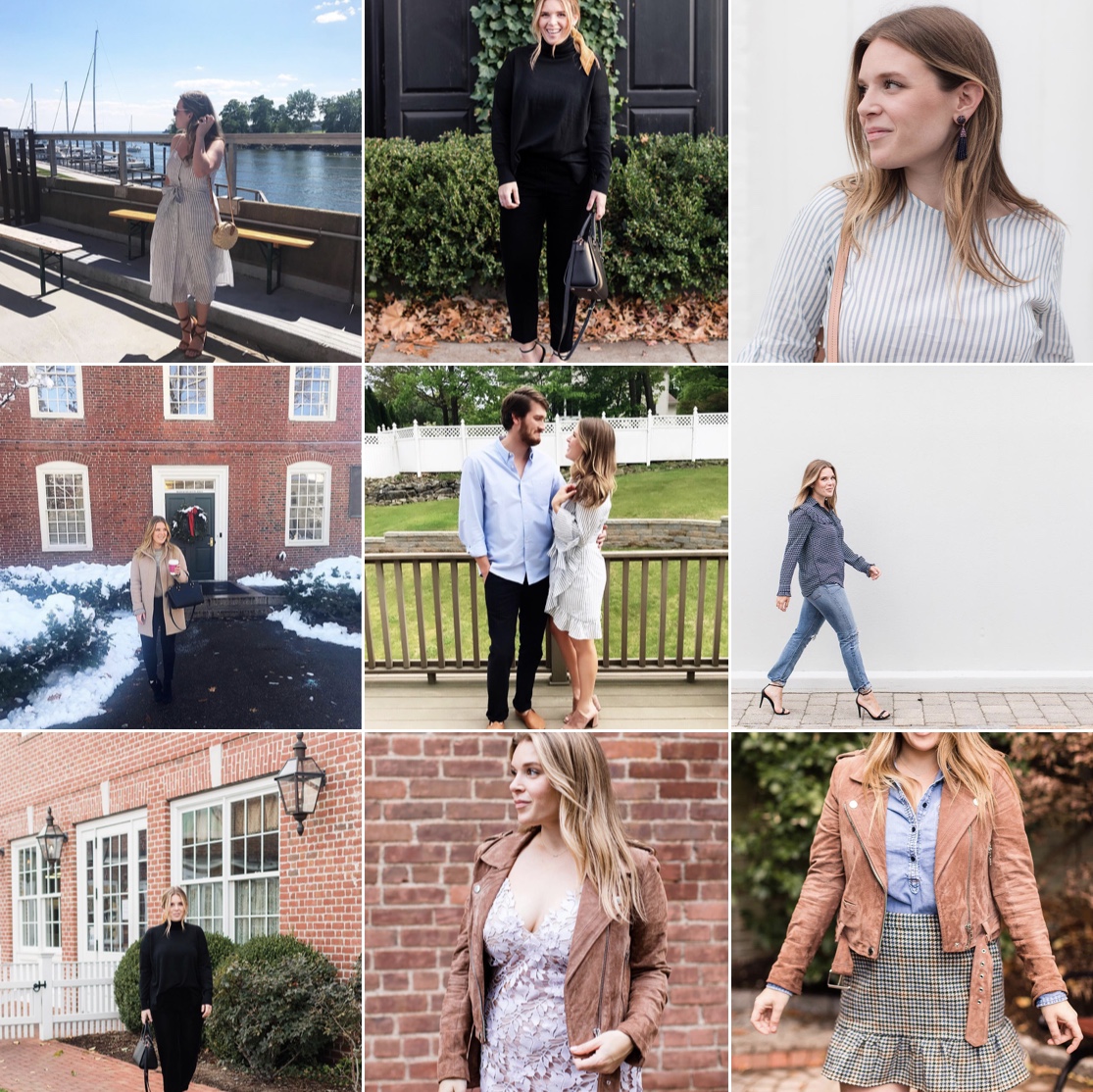 As I look back on 2017, one of the main highlights has been starting this blog. It's something that I had always wanted to do and once 2017 rolled around I knew it was now or never. I vividly remember sitting in our bedroom at the time and building this website. It wasn't easy to figure out and I definitely made mistakes along the way, but in the end, I learned more than I could have ever imagined. As this year comes to a close I am so proud of the work that I have done so far and where this blog currently stands.
A huge part of this blog is my Instagram account, and although myself and pretty much every blogger I know has a love-hate relationship with the platform, it's one of the best tools we have to market ourselves. I am constantly trying to create and share photos that you, my followers, enjoy looking at and that is not always easy. Recently I feel like I have really honed in on my brand, theme, aesthetic, whatever you want to call it, and I am so excited to keep building upon it in 2018. In the meantime, I thought it would be fun to share my top performing Instagram photos of 2017 as a way to look back on a really, really great year…
This post was my actual top performing photo from 2017. I don't know what about it made it rank so highly, but I can tell you that this was a great day. Bill and I had just moved into our first apartment and my parents and brother came up to Stamford for the day to see our new place. We had a great meal and spent the rest of the day walking around town and ended up at the Stamford Beer Garden which is really fun to hang out during the warmer months.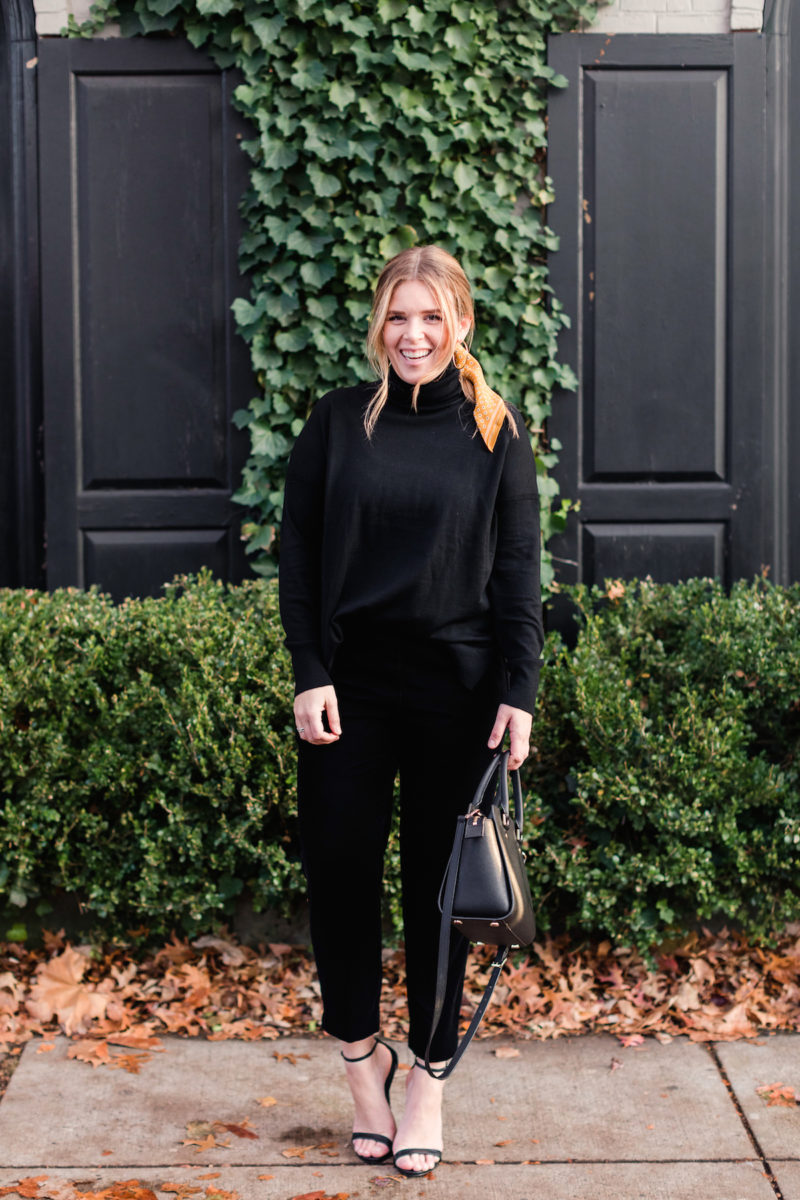 This is probably my favorite photo from 2017 for a variety of reasons. I love it because I feel like after a bunch of practice with my photographer, I am finally starting to understand what makes for a good photo. It can definitely be awkward getting in front of the camera when you are first starting out, but now I don't mind it as much and sometimes even like it. Another reason I love this photo is because J.Crew (ahhhhh!) shared this photo on their Instagram page not too long ago. That #regram was probably one of the biggest moments in my blogging career thus far. I definitely freaked out. If you've been following along you know J.Crew is one of my favorite brands, so to get that validation from them was truly special! This also happens to be one of my favorite looks from 2017. See the full post here.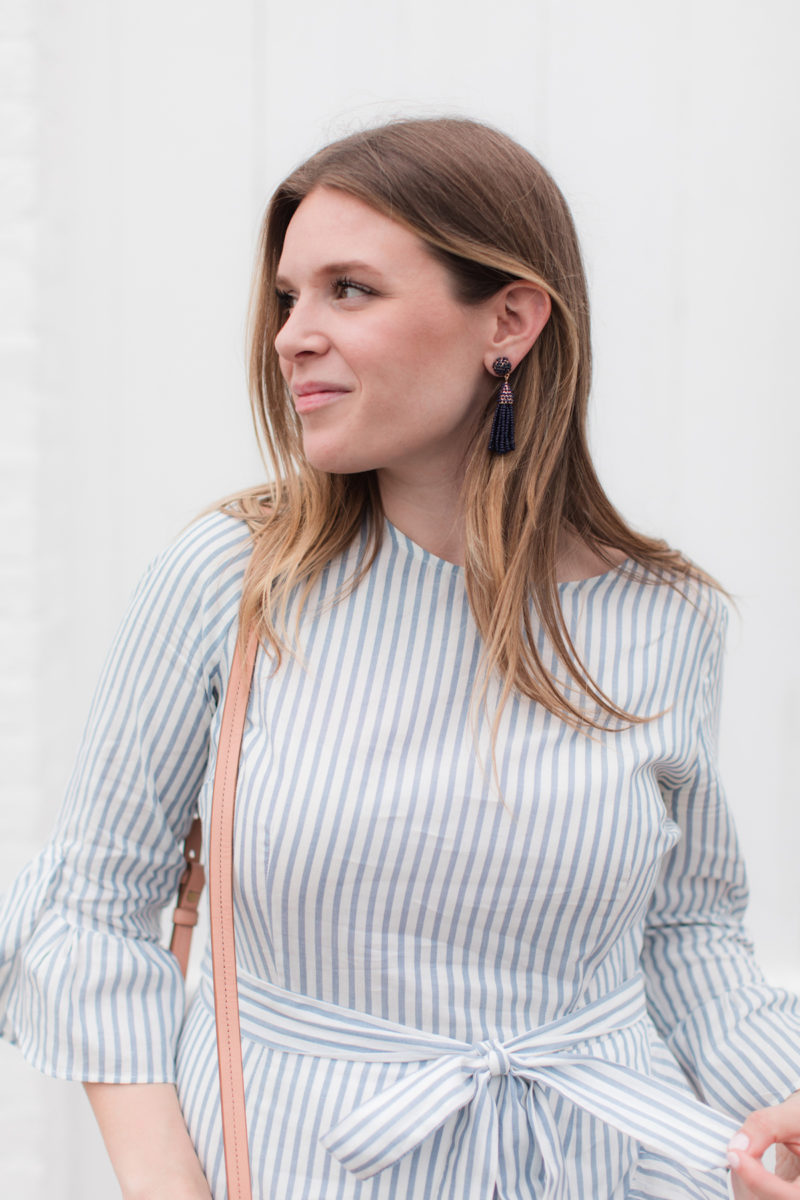 Not sure why this photo did as well as it did, but it's kind of making me miss my darker hair? Also, I miss summer.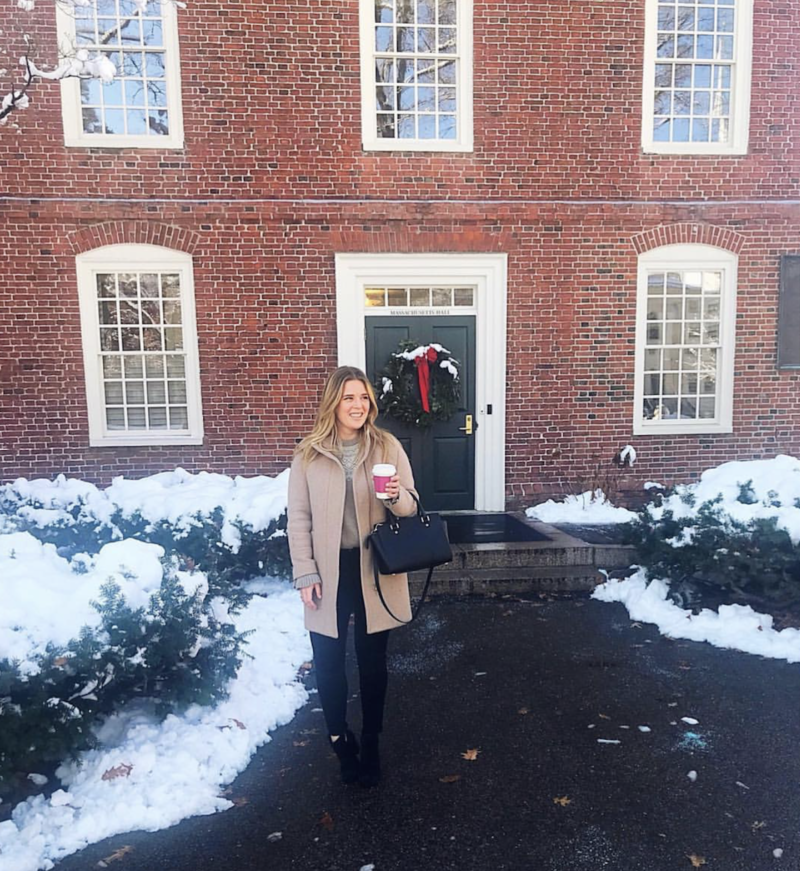 I think I might need to make a trip back to Boston in the fall for a photo shoot. Seriously, even with all the snow the whole city, especially the Harvard Yard, looked so beautiful. I'm a huge fan of anything brick and New England-looking, so it totally fits my vibe. This was when we went up to Boston for the weekend for Bill's company Christmas party. I love going to Boston with Bill because he went to college there and knows great spots all around the city to visit.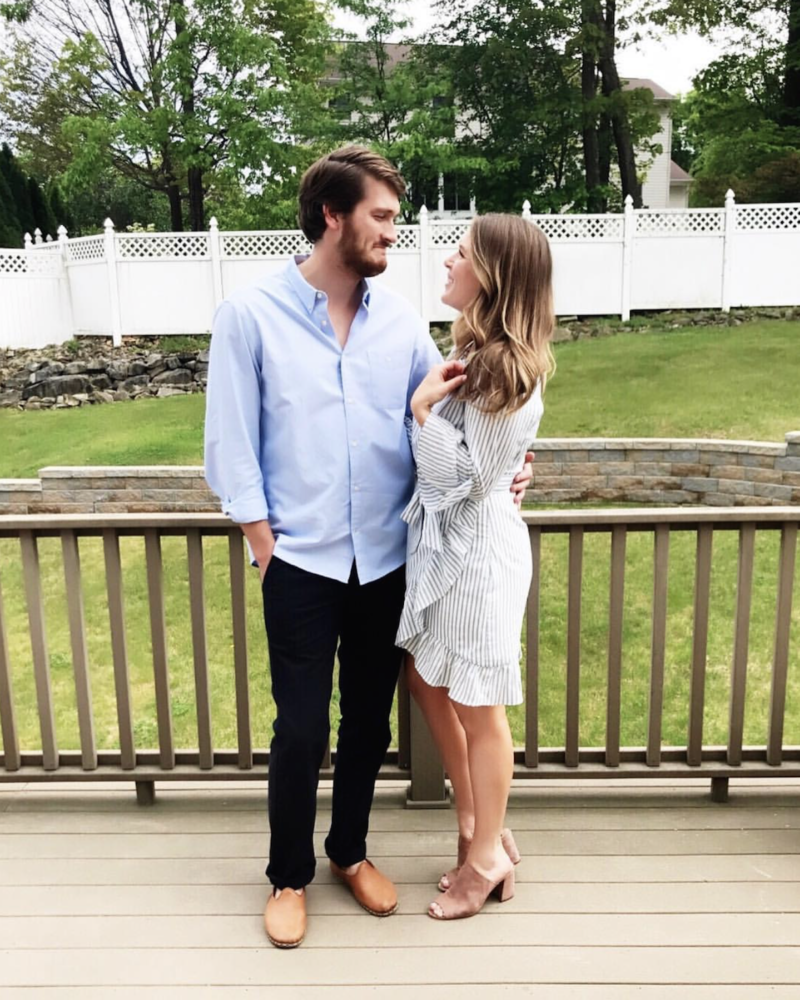 Bill and I were both in weddings this year. This photo was at home in New Jersey right before my friend Rose's rehearsal dinner. We had so much fun this weekend.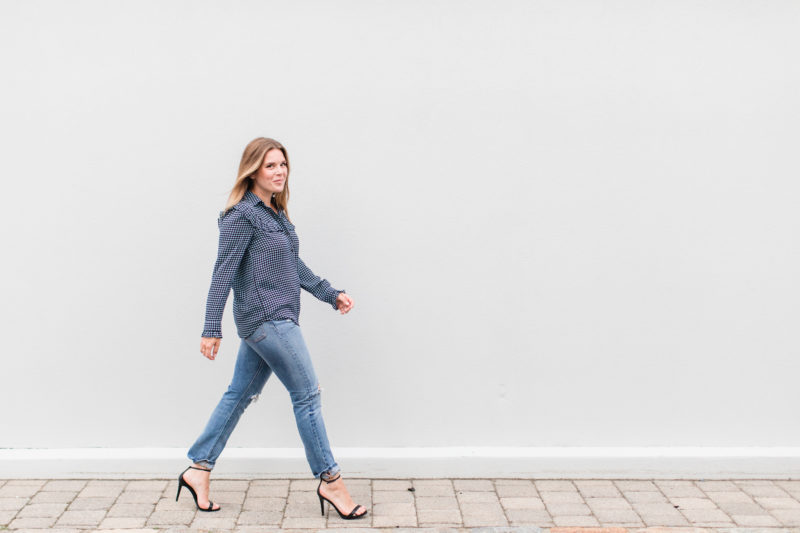 I love this photo because I posted it on a Friday when my best friends were coming to Stamford for the night. We went to a big dinner then spent the night bopping around and had a blast. Fun fact: these are my favorite jeans from 2017. More on them here.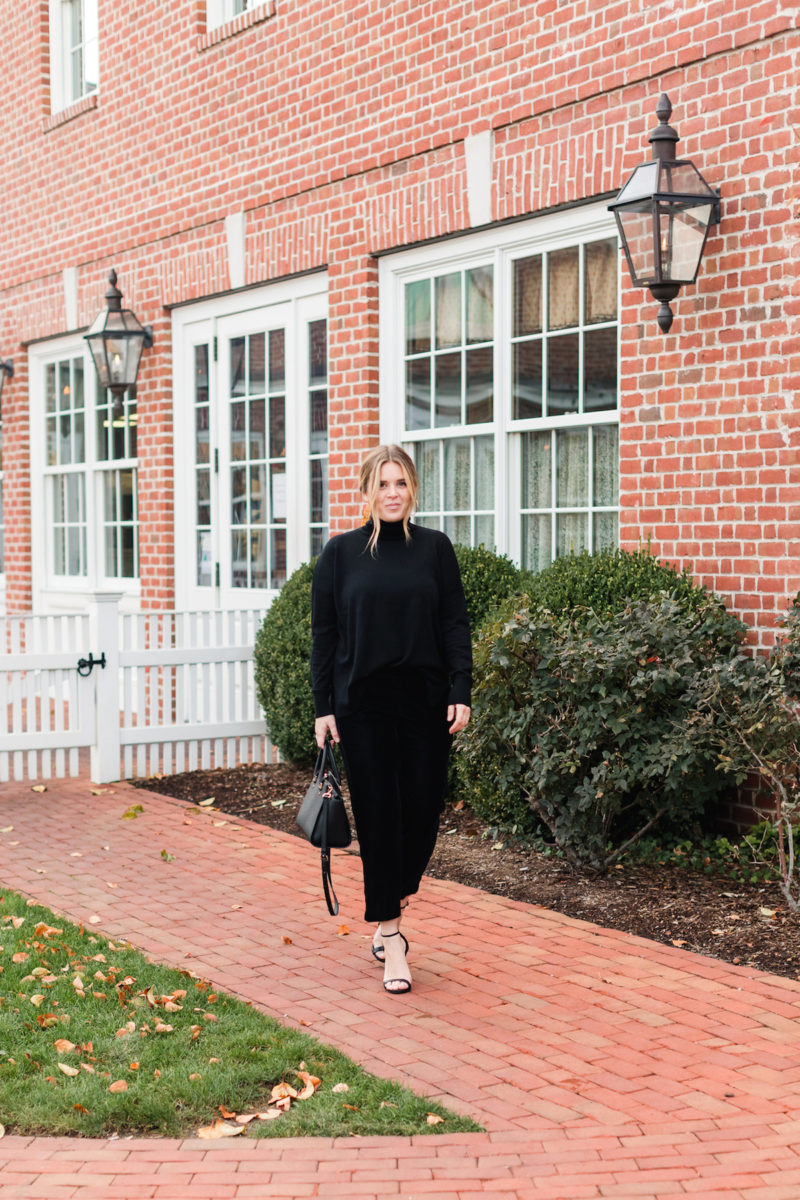 This outfit definitely performed well. I love this photo because of the white, brick and greens in the background. This was shot in Darien, CT, and it's definitely one of my favorite towns to shoot in. So many pretty little spots like this.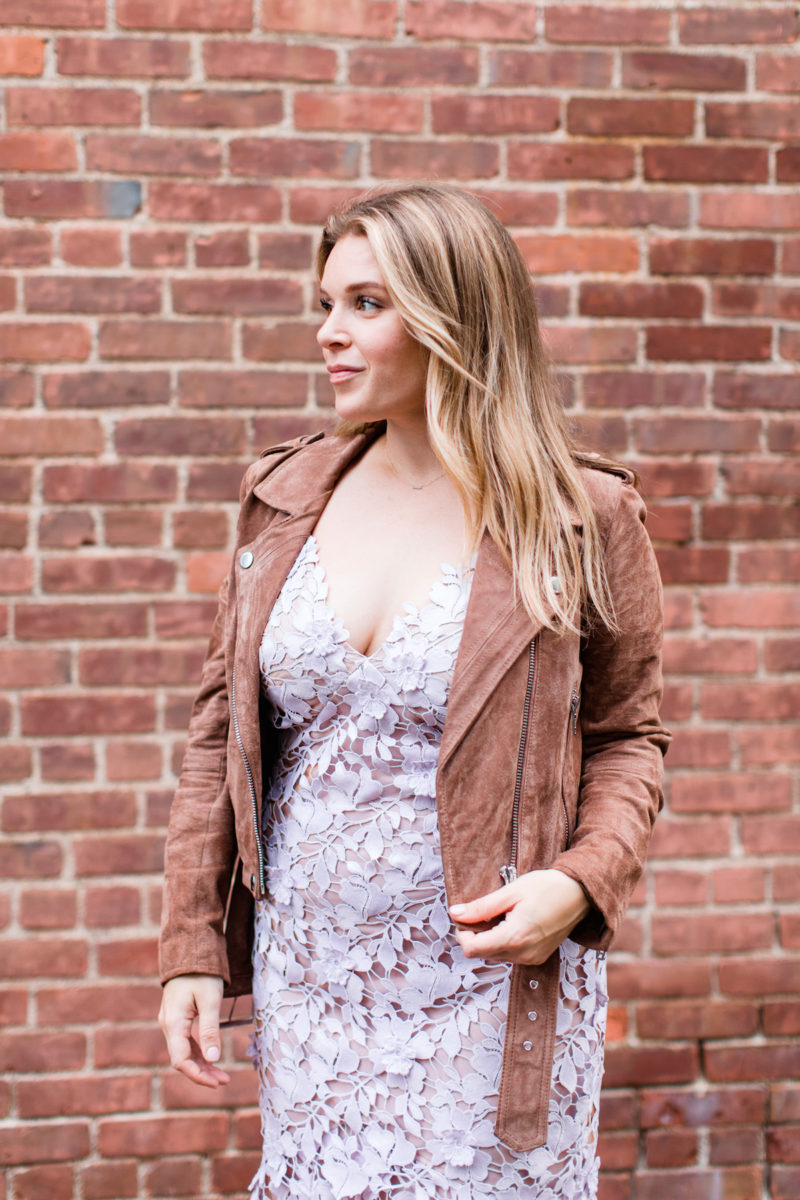 I mentioned weddings earlier in this post, and this dress was my favorite wedding guest dress of the year. I wore it to Bill's sister's wedding and received so many compliments on it. This jacket is also a blogger favorite, and I can't lie I wear it all the time. Shop the dress (currently on a crazy sale) here and jacket here.
This was my favorite look from 2017 and I'm so glad you all liked it as much as I do. See the outfit post here.
What do you want to see more of in 2018? Let me know in the comments!